Well, I promised a post about knitting, and it was high time I cleaned out my bag as well, so here is a photo tour of my knitting bag. Enjoy.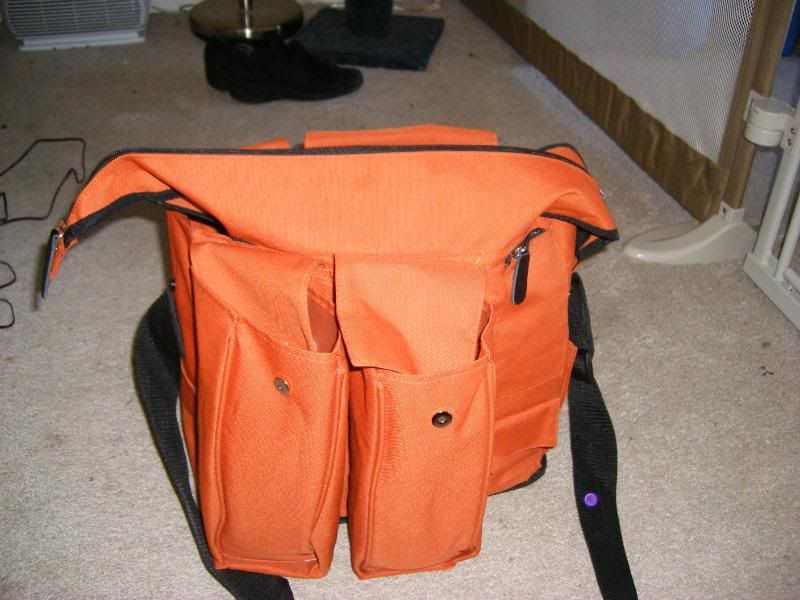 Hello, giant orange bag! How are you today?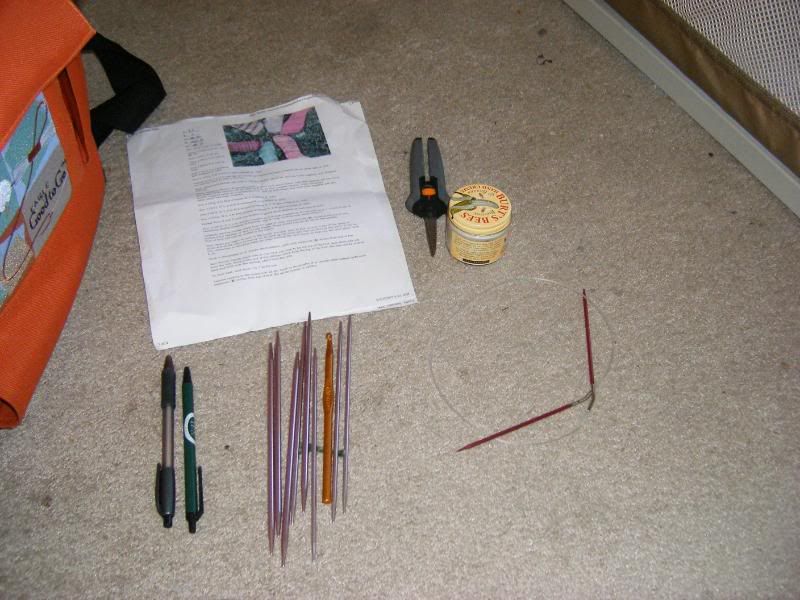 Random assorted pocket crap. Universal Toe Up sock pattern from Knitty.com, filled in with my mom's measurements for her birthday socks (which I did not take pictures of before I gave them to her. Silly me.), really really sharp scissors, pens, assortment of dpns from various projects, circulars recently freed from (as far as I'm concerned) finished sweater, and my yummy yummy Burt's Bees Banana Hand Cream. Best stuff for dry, tortured hands. Also doubles as a needle wax when things aren't sliding smoothly enough.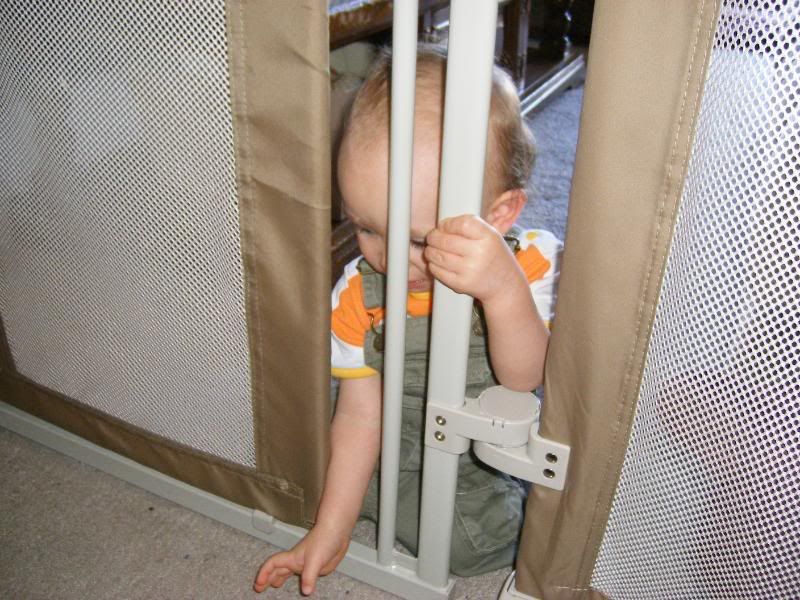 My little helper, tempted by the sharp objects Mommy is pulling out of her bag. Current recipient of 90% of my knitting.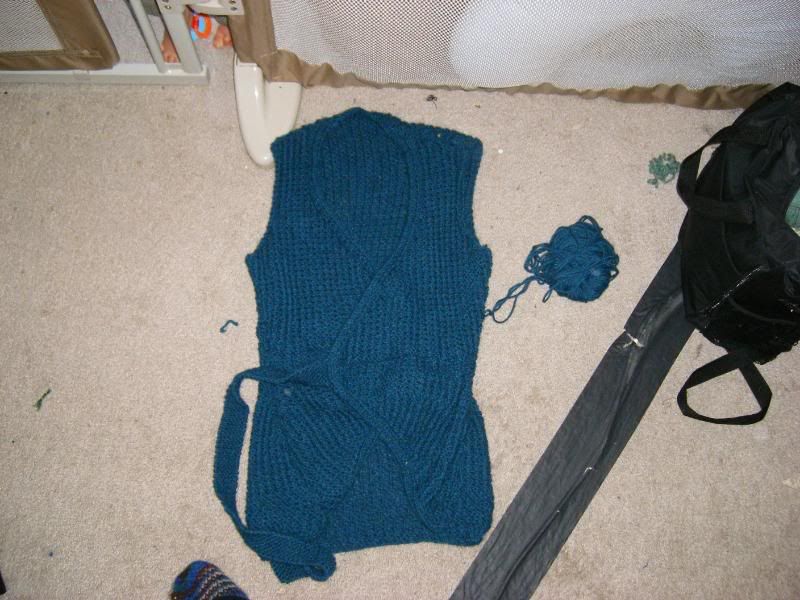 Ruffled Surplice from Spring Interweave, in green Ultra Alpaca, sans sleeves. I finished it, don't like the way it fits me, and is soon to be scrapped for an alternative project. Probably tall socks and a hat. Something with cables.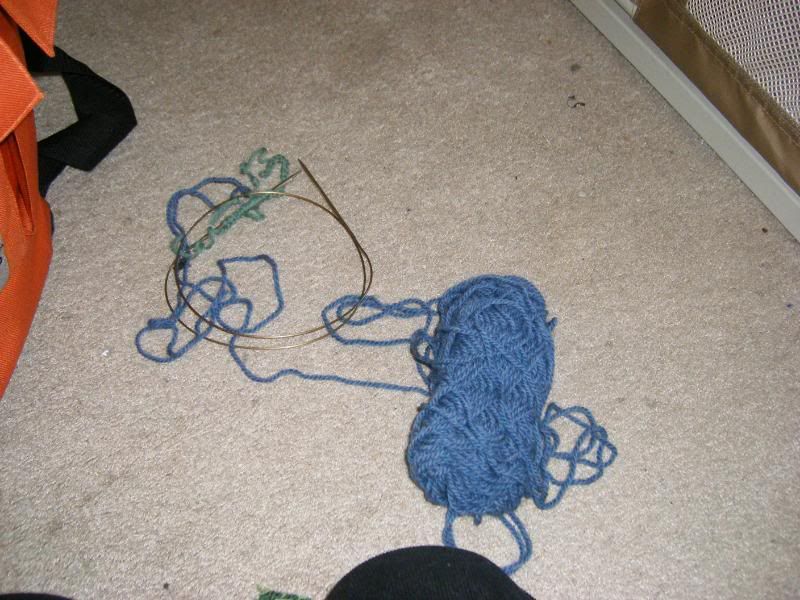 Very beginning of new blue woolies for the wee bit. Check out my provisional cast on. These willbe my second pair of toe up socks on circular needles. This is also my first pair of Addi Turbos. Yum.
Finished fronts, needles and additional yarn for a wee wrap sweater for the guy. Will probably be too small by the time I finish, and end up being for a future sibling. Pattern is my own and in progress.
Pirate sweater from an old issue of Vogue Knit.1. The back is done and I've begun the sleeves. I'm saving the front for last as this will be my first real attempt at color work and I'm nervous.
Well, that's it for the bag -- how's about some random finished bits?
This was his first baby hat. It was once massive on his tiny newborn head. Now, it's just cute.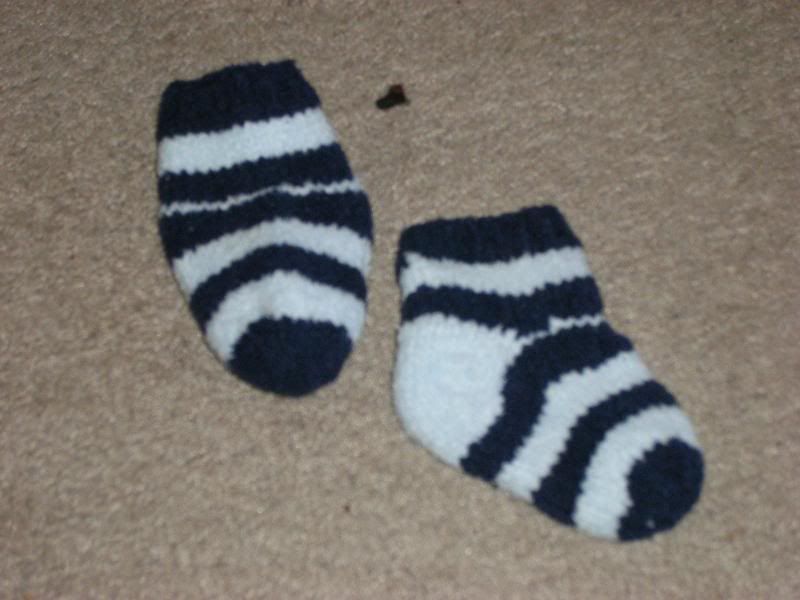 Baby socks!! The ones on the left are made from Plymouth's "Oh My!"yarn and quite fuzzy. NowI want to make a pair for me. The ones on the right are plain wool. Bothpairs are probably the last cuff down socks with a heel flap that I have done. Now, I'm all toe up and short row heels. Speaking of short row heels ...
Itty Bitty Kilt Hose! I made these to go with the Itty Bitty Kilt that I made when we took the baby to the Virginia Scottish Games this year. These are toe up, short row heels, with cables down the front and sides. Oh, and they're wool as well.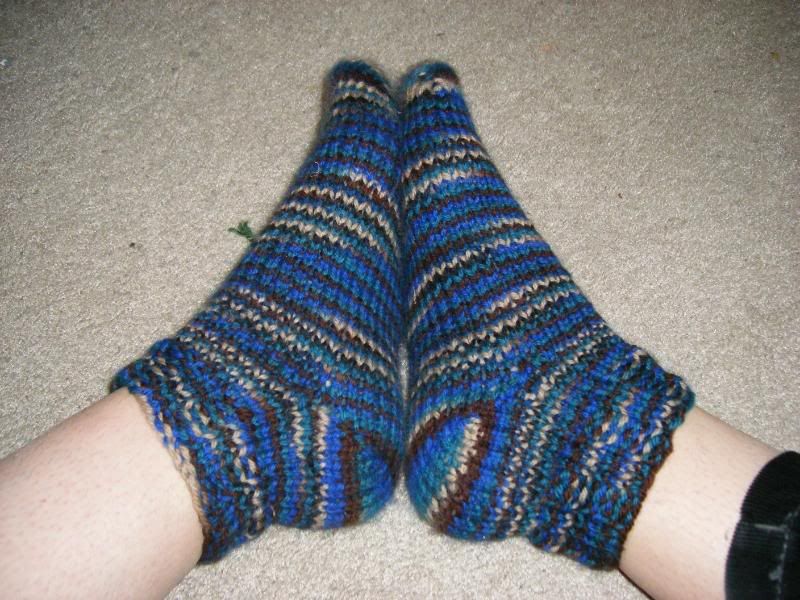 Just finished today! My first pair of socks on one set of circular needles. Wool, size 8 needles, short row toe
and
heel, and a little ribbing for a cuff. Very comfy. In fact, I'm wearing them now!
Well, that's all I've got for now. See? I do knit ...